Professional Document Shredding: Why It Matters for Your Business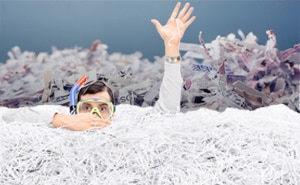 Most business owners understand the need to dispose of important paper documents properly, which can contain quite a bit of information that would be harmful in the wrong hands. Obviously, this is where professional document shredding comes into play.
However, some business owners fall short of understanding the need to let professionals handle their document shredding. Just as you wouldn't let an electrician do your plumbing, it doesn't make much sense to let an untrained professional – such as an entry-level employee or intern – carry out your document destruction.
Here are some of the reasons why document shredding is done best when left to the professionals.
Save Time and Resources with Professional Shredding
Anyone can purchase shredding equipment and have employees dispose of paper documents. But that means more time is taken away from other tasks.
Employees can get much more done each week if they are not responsible for shredding various letters, files, and documents. The additional productivity easily justifies the cost of using a professional service.
Recycle Documents in a Secure Way
Along with reducing documents to tiny pieces that can't be reassembled, a professional service also ensures that nothing ends up in a landfill.
Rather, shredded documents are transported to a recycling center, where the material can be processed and used in the creation of new paper products. For any business owner who wants to make the operation as green as possible, this is definitely a plus.
Licensed and Bonded Document Shredding Service
One of the best reasons to work with a professional document shredding service is the degree of protection provided to each customer.
A professional service handling the destruction of the documents is properly licensed and bonded. The result is that the business owner does not have to worry about the information found in those documents being used in any way.
At EcoShredding, we specialize in mobile, on-site document destruction and offer daily, weekly, monthly, and one-time purge service packages.
Not only is EcoShredding entirely focused on our clients' needs, but we're also a woman-owned, local Alpharetta business that truly cares about our community. We are also partners with eco-friendly and secure document solutions for your home or business.
Plus, EcoShredding's document destruction professionals are bonded and insured, as well as background checked and drug screened, to completely ensure security.
If you're interested in learning more about how a professional shredding company can help you protect your business, contact us today to learn more about getting started!