Secure Paper Shredding Services: The Risks of DIY Document Destruction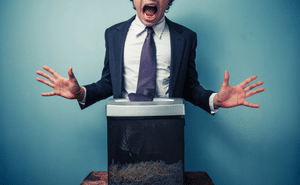 Secure paper shredding services are crucial to keeping your company's confidential information safe, but many business owners believe shredding in-house is an opportunity to reduce costs and dispose of materials more conveniently.
When you opt to do it yourself instead of depending on secure paper shredding services, you put your company and yourself at risk. That's why we've compiled a list of the fundamental dangers associated with DIY document destruction and ways to avoid them.
Fire or Explosion
As you are probably already aware, the strips of cut-up paper are combustible. A single spark from the shredder teeth hitting a paper clip is all it takes to set off a dust explosion or ignite a blaze.
Consumer and office-grade shredders can overheat and quickly catch fire to the shredded papers. To avoid this, rely on paper shredding professionals who operate systems designed to guard against paper-dust collection.
Non-Secure Paper Shredding Services
Once document destruction moves in-house, decisions about what documents should be destroyed are left in the hands of employees who do not have proper training or experience in document disposal.
With consumer or office-grade shredders, the paper is cut into long strips and poses a significant risk to your business as the strips can be pieced back together to retrieve confidential information. Professional shredding services crosscut documents into confetti-like bits and mix them with shredded documents from other businesses.
The advanced process eliminates the risk of reassembling your confidential documents and provides you with the assurance that your documents are securely shredded.
No Proof of Destruction
Shredding your documents in-house provides you with no real evidence of actual destruction, which is required in the event of any legal or regulatory investigation.
When you depend on a document disposal service, you are provided with a Certificate of Destruction, proving that your confidential information was handled correctly and in compliance with all laws, regulations, and policies in place.
Productivity Decreases
If you're motivated to move your paper shredding in-house to cut costs, you need to be aware of the hidden costs that come with DIY shredding. Compared to commercial shredding equipment, office shredders are slow and need maintenance.
DIY paper shredding requires time and money, resources that you would likely prefer to spend on your customers and core business.
Partner with Secure Document Shredding Experts
At the end of the day, you want to be sure that your business and customer information is disposed of properly. At EcoShredding, our document destruction professionals are bonded and insured, as well as background checked and drug screened, to ensure security.
As your local shredding partner, we will work with you to help determine the best schedule and make sure your business fully complies with legislation while making the process as easy as possible. That way, you can focus your resources on meeting your customer's needs.
To learn more about the advantages of partnering with a local shredding company that is responsive, has fair prices and will know you by name, contact us today.