Community Partners: Local Document Shredding Solutions Compared to 'Big Box Shredders'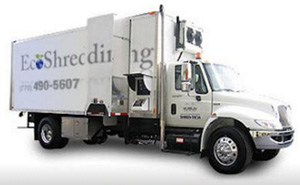 In today's age of modern identity theft, companies have to be certain that they destroy their data. There is no room for error when it comes to keeping your business's, your employees', and your customers' confidential information safe and secure.
That's why most businesses find partnering with a local shredding service is a practical and effective way to ensure complete security and compliance.
But with so many options, how do you choose between all the different options on the market?
The Case for Local, On-Site Shredding
One of the most important points to consider when making their decision is the distance involved.
To be clear, off-site shredding means that documents are moved in locked, GPS-monitored trucks to a shredding facility. On-site is the same as mobile shredding — a truck comes to you, and the paper is shred right there on the premises in front of you.
Shredding services that transport the shredded paper to a processing facility can be a significantly less secure option that most businesses can't afford to risk. The further away the facility is, the more opportunities there are for problems to arise.
'Big Box Shredders' continue to switch to only providing off-site shredding services as a way to cut costs and increase profits.
A local service that provides on-site shredding ensures the shortest distance between two points. That means that what gets shredded today will be processed and destroyed as soon as possible. With on-site, you or an employee are capable of watching the destruction happen.
Also, a local shredding service recognizes you as more than just a calendar appointment. While it's easy to get lost in the shuffle when partnering with a corporate shredding company, a local partner will develop a lasting relationship with you and work to understand your business.
Finally, you are helping uphold your business community by supporting a local shredding service. When you turn to one of your neighbors and give them your business, you're making a real difference in the community, creating a beneficial relationship for both sides.
EcoShredding: Your Local, Environment-Friendly Shredding Partner
At EcoShredding, we specialize in mobile, on-site document destruction and offer daily, weekly, monthly, and one-time purge service packages. Our experience and expertise in legal document destruction separate us from other shredding service providers.
We'll work with you to help determine the most economical schedule and make sure your business fully complies with legislation while making the process as easy as possible.
EcoShredding: Your Local Shredding Community Partner
Not only is EcoShredding entirely focused on our clients' needs, but we're also a woman-owned local, Alpharetta business that truly cares about our community. We are also partners with eco-friendly and secure document solutions for your home or business
We are members of:
And there is no need to worry about compliance or liability. EcoShredding's document destruction professionals are bonded and insured, as well as background checked and drug screened, to ensure security.
To learn more about switching to a local shredding company that is responsive, has fair prices and will know you by name, contact us today.