Secure Shredding Services in Alpharetta, GA
EcoShredding is your local document shredding company in Alpharetta, GA. Call us at (770) 490-5607 to speak with a member of our shred team who will schedule an appointment for your secure shredding service. We will review and confirm your shredding requirements and offer you the best shred service option at an affordable rate. We'll provide you with an immediate quote and schedule your appointment right away.
Secure Onsite Paper Shredding Services
Alpharetta is a city located in northern Fulton County, Georgia, United States, and is a part of the Atlanta metropolitan area. Perfectly positioned between the enchanting and adventurous North Georgia Mountains and the vibrant international city of Atlanta, Alpharetta conveniently gives you quick access to hundreds of things to do.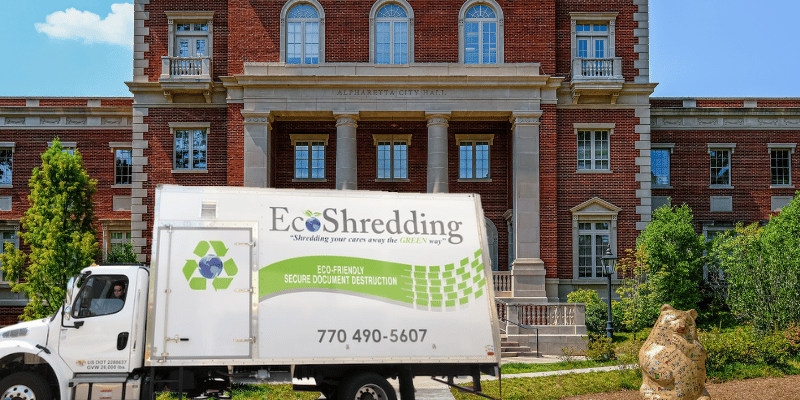 Commercial Document Shredding Solutions
EcoShredding offers services that help Alpharetta, GA clients decrease the risk of information breaches, improve staff productivity, and assure your organization's compliance with laws including HIPAA, FACTA and GLB. We provide document shredding solutions including:
On-Site Shredding Service – our shred truck comes to you to collect your documents for destruction
One-time Shredding Service – we pick up documents on demand to accommodate your shredding projects for quarterly or yearly purges
Recurring Shredding Service – regularly scheduled shredding services with collection containers for your business or organization.
Shred Days for Your Organization – if you need to do a fundraiser to support your clients or constituents, plan a shred day
Hard Drive Destruction – we have the capability to destroy your digital data on hard drives
Secure Shredding in Alpharetta, GA
EcoShredding is proud to have served the Alpharetta community with secure paper shredding and digital media destruction services since 2008. We provide a full suite of onsite mobile shredding services for businesses and residents, including:
Business Shredding
Scheduled Shredding
One Time Shredding
Hard Drive Shredding
Residential Shredding
Environmentally Friendly Shredding
Many EcoShredding clients ask us what happens to the shredded papers after they have been destroyed. All paper we shred is delivered into the paper recycling system that processes the shredded paper back into pulp. Recycled paper pulp is often used to make new paper products like toilet paper, paper towels and newsprint. We can save 17 trees for every ton of paper that is shredded and recycled.
Why Choose EcoShredding for Document Destruction?
EcoShredding is a Certified Woman Owned Business and has been operating in the Alpharetta, GA area since 2008. We've been awarded the Best of North Atlanta in the Shredder Services Category for three years in a row. But more than that, we deal with sensitive information on a daily basis and know the importance of keeping customer information safe and secure.
Your Green Shredding Solution
We chose the name EcoShredding for a reason—because we believe that protecting your information and protecting the environment can go together. Once we've shredded your documents into confetti-sized pieces, we mix them with thousands of pounds of shredded paper from other sources and securely transport them to our authorized recycling partner.
At EcoShredding, we are committed to information security and environment stewardship for clients in the Alpharetta, GA area.
Schedule Your Shred Job Today!
Please give us a call at (770) 490-5607 or complete the form on this page to initiate your shredding request. We're your affordable, eco-friendly and secure document destruction service in Alpharetta, GA. We're happy to serve you.
No Upcoming Events Planned.

Please Check Back Soon.