In-House Document Shredding: Calculating the Hidden Costs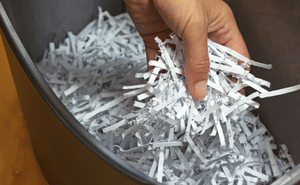 Many businesses still practice DIY document destruction to cut costs.  What they might not realize is that in-house document shredding is not only less secure, but it's also not very cost effective either.
The problem is, document security continues to remain more important in the workplace with the average office worker using up to 45 sheets of paper every day.
Before you buy a shredder and designate employees to destroy confidential information in-house, you need to understand the real costs of DIY shredding and how they can harm your business.
Here are just a few of the many hidden costs associated with in-house document shredding:
The Hidden Costs of In-House Document Shredding
1. Fraud
Keeping shredding in-house can, unfortunately, increase the opportunity for insider fraud. Vormetrics' 2015 Insider Threat Report shows that globally, 89 percent of companies believe they are vulnerable to insider attacks.
Expert Solution: Put a "shred-all" policy in place to guarantee the secure destruction of all documents. You can also partner with a third-party document destruction company that provides you with a dependable schedule and secure chain of custody you can trust.
2. Human Error
All the security policies in the world can't account for simple human error, and when you rely on inexperienced employees to determine document confidentiality levels, costly mistakes can be made.
Expert Solution: Find an experienced document destruction partner that will place secure containers at key locations in your office to store and collect documents that are no longer needed. A secure on-site shredding expert can give you the confidence of a job done right.
3. Inefficiency
Office-grade shredders are often strip shredders. The problem is that shredded strips of paper can be easily reassembled, making strip shredders a dangerous option. You will also want to consider the massive productivity decrease and labor-intensive process for your employees
Expert Solution: Professional shredding services eliminate the risk of reassembled confidential documents with advanced shredding processes – and allow your employees to focus on customers and the company.
Your Trusted Local Document Shredding Partner
You don't need a calculator to understand that in-house document shredding has many hidden costs that can damage your company in more ways than one. Partnering with an expert document shredding company is a solution that will afford you with more time and resources to focus on customers' needs rather than shredding paper.
EcoShredding offers daily, weekly, monthly, and one-time purge service packages to fit the schedule that works best for you.
To learn more about ways to avoid the hidden costs of in-house document shredding, contact us online or call (770) 490-5607 today!