The CPA's Guide to Document Shredding for Tax Season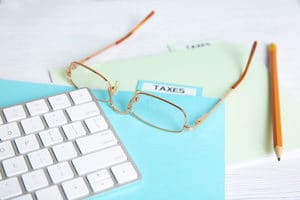 Being right in the thick of tax season, it's important to make sure your work is compliant with IRS guidelines. Proper document destruction is essential to guarding your clients from identity theft and you from a lawsuit, so make sure you're following all the proper guidelines this tax season.
Which Documents Should I Shred?
While cleaning out your space is freeing, be careful not to dispose of documents that you may need in the future. We've created this handy chart to help you determine which documents to destroy and which ones to hold on to.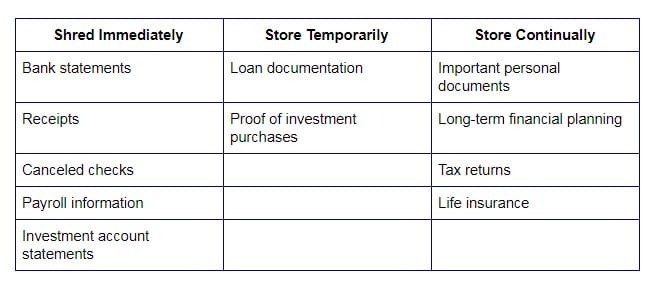 Why Use a Professional Shredding Service?
Though it may be tempting to try to cut out the middleman and take on document shredding by yourself, in-house shredding devices don't shred documents the same way that a professional shredding service does.
Office-grade shredders only shred the documents into vertical strips, enabling a thief to reassemble them like puzzle pieces to acquire sensitive information. Professional-grade shredders not only finely shred the documents, but they also mix them in with other businesses' documents so that criminals can't target a single business.
Another issue with shredding documents yourself is that there is no proof that these sensitive documents have been destroyed should there be an investigation. Professional shredding services supply a Certificate of Destruction, not only keeping your client's information safe, ensuring your methods are compliant with shredding laws, such as HIPAA and Gramm-Leach-Bliley.
Why Choose EcoShredding?
On-Site Shredding.

EcoShredding shreds your documents on our truck upon arrival

right in front of you so you can quickly put your mind at ease knowing the job has been done. Big shredding companies, however, typically pick up the desired documents and put them in the back of a truck, transporting them to a warehouse to be shredded at a later date. Not shredding these documents immediately leaves room for error.
Eco-Friendly.

After shredding your documents EcoShredding takes the shredded paper bits to a paper recycling facility, reducing your carbon footprint and keeping your conscience guilt-free.
Tailored to Your Schedule. EcoShredding respects how valuable your time is and works with you to customize our services to your individual needs. We offer daily, weekly, monthly, and one-time purge service packages.
If you want to hear more about how EcoShredding can benefit you, reach out now!