Secure Shredding Services In Suwanee, GA
EcoShredding is dedicated to ensuring your information security and privacy by providing you the highest quality shredding and destruction services.
We assist Suwanee, GA area businesses and residents with their document shredding needs, whether it's for ongoing shred services or for one-time purges of stored documents. We will provide a customized paper shredding plan to fit your unique requirements. Call us today to schedule your shred service at (770) 490-5607.
Your Preferred Suwanee Shredding Company
Located about 30 miles north of Atlanta, Suwanee is well-known for its distinctive parks, crowd-pleasing events, and high-quality mixed-use developments. Like many Gwinnett County communities, Suwanee began as a small agricultural town with strong ties to the railroad. Today, the City works hard to retain its charm and sense of neighborliness and to manage growth in smart, innovative ways.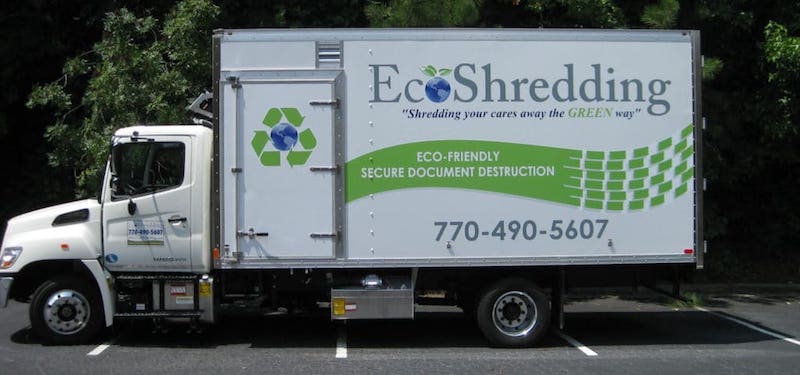 Secure Destruction For All Your Records
With EcoShredding services you can destroy unwanted paper, documents and files quickly and completely without the investment in shred machines and the labor required to shred it yourself.
We offer onsite mobile shredding for the disposal and destruction of your sensitive information, including hard drives. For each shred service we practice strict chain of custody procedures to ensure the confidentiality of your business records.
No matter what type of documents you wish to dispose of, we ensure that the privacy of your personal, business or client information is maintained throughout the entire shredding and destruction process.
Secure Shredding in Suwanee, GA
EcoShredding is proud to have served the Suwanee, GA community with secure paper shredding and digital media destruction services since 2008. We provide a full suite of onsite mobile shredding services for businesses and residents:
EcoShredding is the Suwanee, GA area's best company for secure document destruction and shredding. We handle the destruction requirements of every type of customer with local, friendly and responsive service.
We are proud to serve residential clients, home-office users, small businesses, not-for-profits, healthcare, local and international corporations, as well as government agencies with our onsite shredding and document destruction services.
Ensure Your Peace of Mind
When you partner with EcoShredding, you benefit from a secure process that follows a strict chain of custody, protecting your personal or business information from being lost or stolen.
If required, we'll provide you with lockable collection containers, where you can safely store documents prior to shredding. Then, you have the opportunity to witness your discarded paper being shredded onsite. This will give you peace of mind knowing that all information has been securely destroyed.
Your Green Shredding Solution
We chose the name EcoShredding for a reason—because we believe that protecting your information and protecting the environment can go together. Once we've shredded your documents into confetti-sized pieces, we mix them with thousands of pounds of shredded paper from other sources and securely transport them to our authorized recycling partner.
At EcoShredding, we are committed to information security and environment stewardship for clients in the Suwanee, GA area.
Schedule Your Document Destruction Service Today
Choose EcoShredding for your Suwanee, GA paper shredding needs. Complete the form on this page or call us today at (770) 490-5607 for a FREE estimate.
No Upcoming Events Planned.

Please Check Back Soon.