Secure Shredding Services in Dunwoody, GA
Customers in the Dunwoody, GA area rely on EcoShredding to provide them with secure shredding services. We provide a wide variety of document destruction services for residential and business clients.
Your Local Dunwoody Shredding Company
Depending on your requirements, we can often schedule service right away. As a local, woman-owned small business, we are proud to provide cost effective mobile paper shredding services. Call us at (770) 490-5607 to schedule your shred job today.
Dunwoody, GA is a northern suburb of Atlanta. The Dunwoody area was established in the early 1830s and is named for Major Charles Dunwody (1828–1905). An extra "o" was inadvertently added with the incorrect spelling of the name on a banking note.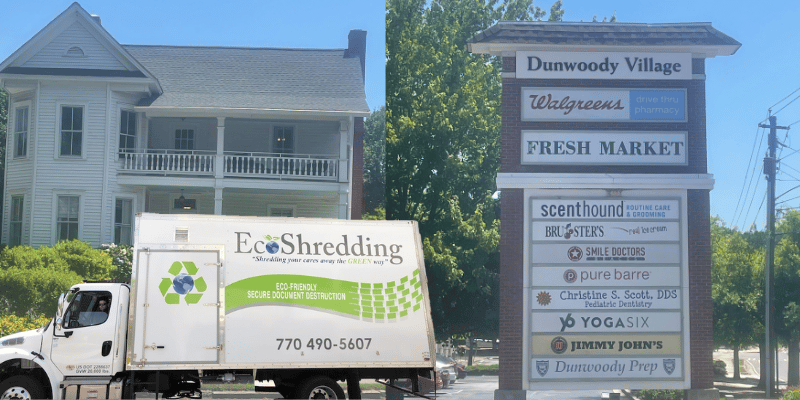 Don't Leave Privacy To Chance
It is risky to dispose of your personal or business documents in the trash can or recycling containers. When you outsource the disposal and shredding to EcoShredding to do it for you, you get a proven, secure process to protect your sensitive information in a confidential way that meets the highest standards in the document shredding industry.
Whether you're a legal or accounting office destroying old client records or an individual homeowner discarding outdated medical records or banking documents, the experts at EcoShredding are here to help you keep your personal or business information safe and secure.
Outsource Your Shredding
Outsource your document destruction needs to an experienced shredding company. Shredding with EcoShredding will allow you to focus on more productive tasks, saving your organization money and time.
EcoShredding provides outsourced shredding services that are 100% dependable, secure, and trusted by many organizations and residents in the Dunwoody, GA area since 2008. From small offices to large corporations, we offer outsourced shredding services customized to your specific budget and collection needs.
We provide a full suite of onsite mobile shredding services for businesses and residents:
Large or small, no matter the size of your shredding job, EcoShredding can help. We come to your location in Dunwoody, GA with our powerful shred truck. Whether you have one box for shredding or one thousand, we're ready and able to securely shred it all for you. From residential and small business clients with limited shredding requirements to large corporate file room purges or one-time destruction projects, we're qualified to support you. Give us a call. We can help.
Your Green Shredding Solution in Dunwoody
We chose the name EcoShredding for a reason—because we believe that protecting your information and protecting the environment can go together. Once we've shredded your documents into confetti-sized pieces, we mix them with thousands of pounds of shredded paper from other sources and securely transport them to our authorized recycling partner.
At EcoShredding, we are committed to information security and environment stewardship for clients in the Dunwoody, GA area.
Ensure Your Peace of Mind
When you partner with EcoShredding, you benefit from a secure process that follows a strict chain of custody, protecting your personal or business information from being lost or stolen.
If required, we'll provide you with lockable collection containers, where you can safely store documents prior to shredding. Then, you have the opportunity to witness your discarded paper being shredded onsite. This will give you peace of mind knowing that all information has been securely destroyed.
Call Today To Schedule Your Shredding
Hiring a reputable shredding company in Dunwoody is as simple as picking up the phone and calling EcoShredding at (770) 490-5607. We will provide you with a no obligation quote and will schedule your shred job immediately. Alternately, complete the form on this page with your shredding requirements and we'll get back to you right away.
No Upcoming Events Planned.

Please Check Back Soon.