Secure Shredding Services in Crabapple, GA
Customers in the Crabapple, GA area rely on EcoShredding to provide them with secure shredding services. We provide a wide variety of document destruction services for residential and business clients. Depending on your requirements, we can often schedule service right away. As a local, woman-owned small business, we are proud to provide cost effective mobile paper shredding services. Call us at (770) 490-5607 to schedule your shred job today.
Crabapple, GA is one of the oldest parts of Fulton County, GA. Originally part of Cherokee County, the first permanent settlement at Crabapple was made in 1874, with the community taking its name from a crabapple tree near the original town site.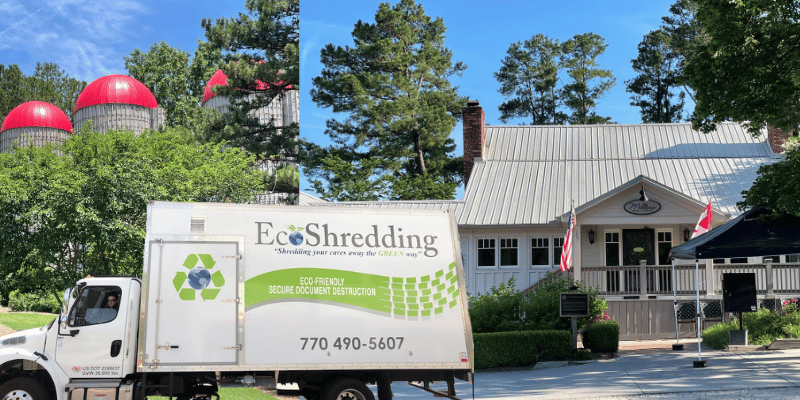 Don't Leave Privacy To Chance. Hire A Local Shredding Company
It is risky to dispose of your personal or business documents in the trash can or recycling containers. When you outsource the disposal and shredding to EcoShredding to do it for you, you get a proven, secure process to protect your sensitive information in a confidential way that meets the highest standards in the document shredding industry.
Whether you're a legal or accounting office destroying old client records or an individual homeowner discarding outdated medical records or banking documents, the experts at EcoShredding are here to help you keep your personal or business information safe and secure.
We provide a full suite of onsite mobile shredding services for businesses and residents:
Save Time and Resources by Outsourcing Your Shredding
Using a cheap, office supply shredder for the destruction of your documents and paperwork is a time-consuming process that often produces a lot of frustration due to machine malfunction and limitations. There is a better way for organizations and households in the Crabapple, GA area to destroy their sensitive documents.
EcoShredding does everything for you.
Just give us all your papers or files that need to be securely disposed, and we'll destroy them quickly and securely. For ongoing service, we can provide secure collection containers which gives your staff the ability to conveniently and securely dispose of confidential documents without the need to remove staples, paper clips, rubber bands, or folders. We make it easy for you.
After your destruction project has been completed, you will be issued a Certificate of Destruction by EcoShredding to verify your compliance and legal due diligence.
Destroyed Beyond Recovery
A major benefit of hiring EcoShredding as your onsite shredding service company is that we shred your files, paperwork and documents beyond recovery. Our mobile shredder equipment features advanced machinery that reduces the output to tiny pieces. These pieces are thoroughly mixed with other shredded paper in the truck, making it logistically impossible to reassemble a document. After the truck is filled, all shredded material is recycled. This process provides legal compliance with your required privacy laws.
Complete Destruction of Your Documents
EcoShredding services are designed to ensure your documents are completely destroyed. Our process is secure, 100% reliable, standards-compliant and tailored to meet your needs. For your convenience, we will shred any records or media you need destroyed either at your home or business or at one of our convenient drop off locations.
We then issue a Certificate of Destruction for permanent confirmation of the service provided.
Your Green Shredding Solution
We chose the name EcoShredding for a reason—because we believe that protecting your information and protecting the environment can go together. Once we've shredded your documents into confetti-sized pieces, we mix them with thousands of pounds of shredded paper from other sources and securely transport them to our authorized recycling partner.
At EcoShredding, we are committed to information security and environment stewardship for clients in the Crabapple, GA area.
Get Your Shredding Service Scheduled Today
There's no need to wait. Pick up the phone and call us, or complete the form on this page with your shredding requirements.
Along with our affordable price, we'll schedule your shredding service in Crabapple, GA as quickly as possible. We look forward to hearing from you.
No Upcoming Events Planned.

Please Check Back Soon.