Buckhead, GA Secure Shredding Services
EcoShredding is your local paper shredding company serving clients in the Buckhead, GA area. Shredding services will be performed onsite at your location, either home, office or storage facility. To schedule a shred service, give our team a call at (770) 490-5607. We will review your unique requirements, provide you with an instant quote and then schedule your shredding appointment immediately.
Secure Document Shredding Services
Buckhead is the uptown commercial and residential district of the city of Atlanta, Georgia. It is known for its upscale malls and the independent art galleries that cluster around Miami Circle and Bennett Street.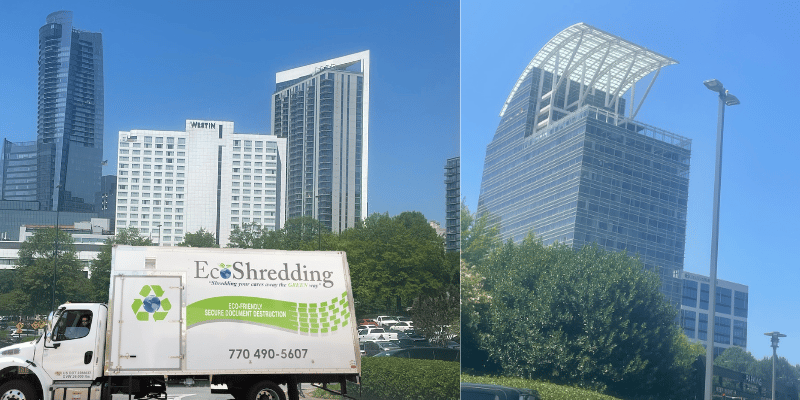 We Shred At Your Location in Buckhead
You can expect a EcoShredding staff member to arrive at your home or office with photo identification. If you've chosen our scheduled shredding service, our driver will collect all the confidential documents that your employees have discarded into the locked containers strategically placed throughout your facility. If this is a one-time, project shred, our driver will pick up all your boxes or containers of confidential documents.
Our driver will then empty all your security containers or boxes into one or more of our large containers and bring them directly to our shredding truck. The hydraulic lift on the truck then raises the container and empties everything into the shredder, where your confidential documents are securely destroyed.
Business & Residential Shredding
EcoShredding provides residential and commercial document destruction services to clients in the Buckhead, GA area with our state of the art mobile shredding trucks. We provide a full suite of onsite mobile shredding services for businesses and residents:
To schedule your shredding service, give us a call or complete the form on this page. We'll respond with a quote and arrange your service at a time and date that's convenient for you. Call us today and you could have your shredding done by tomorrow.
Your Buckhead, GA Shredding Company
EcoShredding is the Buckhead area's best company for secure document destruction and shredding. We handle the destruction requirements of every type of customer with local, friendly and responsive service.
We are proud to serve residential clients, home-office users, small businesses, not-for-profits, healthcare, local and international corporations, as well as government agencies with our onsite shredding and document destruction services.
Why Choose EcoShredding?
Compared to the other options and shredding companies available to you, EcoShredding is your best document destruction vendor. Here's why:
We are local. We serve your neighbors in Buckhead, GA on a regular basis.
We provide quotes and will schedule your appointment with one call.
Shredding service appointments are available Monday through Friday.
We have no extra surcharges or hidden fees.
All shredding is performed at your home or office.
All shredded documents are sent back into the recycling stream.
These are the many reasons why we can guarantee that your confidential information will always be safe and secure while under our care.
Your Green Shredding Solution in Buckhead
We chose the name EcoShredding for a reason—because we believe that protecting your information and protecting the environment can go together. Once we've shredded your documents into confetti-sized pieces, we mix them with thousands of pounds of shredded paper from other sources and securely transport them to our authorized recycling partner.
At EcoShredding, we are committed to information security and environment stewardship for clients in the Buckhead, GA area.
Are You Ready To Schedule Your Appointment?
EcoShredding will take your call, answer your questions and help you choose the right document destruction service for your situation. We will provide you with a quote that includes no hidden fees or extra charges.
We will work with you to schedule a shredding time that fits into your schedule. Call us today at (770) 490-5607 or complete the form on this page to get started.
No Upcoming Events Planned.

Please Check Back Soon.