Realtors Need Reliable On-Site Shredding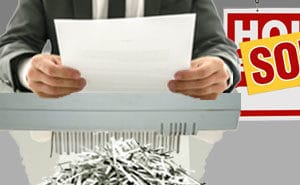 The great news in real estate is that the market has bounced back this year, with markets at their healthiest since 2006, according to June 2015 data from Realtor.com. Nationally, the median days on the market (or DOM) for residential real estate is 66 days, while in Georgia the median DOM is just 48 days. This makes for happier real estate professionals, who are busier than they've been so far this decade.
More listings, offers, leases, and closings also means more paperwork to manage, and attention to the laws in regard to client privacy and security in the real estate industry.
The Graham-Leach-Bliley Act (GLB) requires a written policy in terms of how customer information of a financial nature is kept confidential. The GLB includes real estate listing agreements, offers, settlement statements, and closing documents.
The Fair & Accurate Credit Transaction Act (FACTA) includes provisions requiring businesses (including real estate professionals) to implement policies that detect and deter consumer fraud.
And the Sarbanes-Oxley Act (SOX) of 2002 requires businesses to enact a destruction policy to avoid liability.
The Georgia Real Estate Commission requires real estate brokerage firms to maintain certain documents for a minimum of three years, including:
Sales Contracts
Settlement/Closing Statements
Brokerage Engagements
Leases/Lease Agreements
Other Records determined by the broker that constitute "good business practices," may include:

Potential Legal Proceedings
Listing Agreements
Good Faith Estimates
Disclosure Statements
Zoning Documents, including Flood Disclosure Documents
Offers & Counter-Offers
Signature Pages
Copies of Checks, Money Orders, etc. (not cash) Used In a Transaction
Evidence of Timely Broker Supervision
Financing Documents
Failure-To-Close Documents
and others
After three years, proper disposal of these documents is required, and EcoShredding offers peace of mind by shredding documents on-site and providing real estate brokers, closing attorneys, and licensees a certificate of guarantee that the documents were destroyed in a manner that meets all legal guidelines.
Whether you have one box of documents, or a storage unit full, one call to the professionals at EcoShredding will help ensure your real estate business is in compliance!