Marietta Shredding: Commercial Document Destruction Services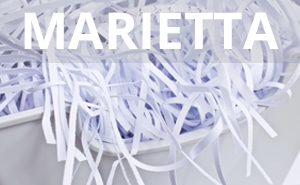 All modern businesses today deal with confidential information in some shape or form and all are responsible for the security of these documents.
At EcoShredding, we are experts at delivering convenient, secure, and environmentally sound commercial document destruction services throughout the Marietta area. Our specialty is helping businesses disposes of confidential documents and papers while remaining compliant with state and federal privacy regulations.
Here are just a few of the shredding solutions we provide throughout the Marietta area:
Mobile Shredding
Our state-of-the-art shredding trucks come to you, to destroy all confidential documents and materials at your company location. The powerful trucks shred 6,000 pounds per hour.
For an added security measure, the mobile shredding trucks are configured so you can witness your materials be destroyed if you prefer.
Convenient Schedule
We offer daily, weekly, monthly, and one-time purge service packages to adapt to your shredding and budget needs.
The convenience of a customized, regular schedule is the ideal solution for your secure document destruction requirements no matter the size of your business.
Secure Containers and Consoles
Based on your needs, we can deliver locked consoles to your office to collect your confidential documents securely in between your scheduled services.
Placing secure containers in key locations around your office protects your important business documents from falling into the wrong hands.
Ensure Compliance
To further illustrate our commitment to your security, we provide a Certificate of Destruction to prove that your documents were shredded at a specific date and time. In all industry, privacy laws on the state and federal level require businesses to have a certificate of destruction once the paper documents have been shredded.
Having a certificate of destruction ensures full compliance with privacy laws like HIPAA, FACTA, and GLB.
Recycling
As a final step in our document destruction services, all shredded materials are then recycled.
With EcoShredding, you're not only guaranteeing your company's information is secure, but you're also actively recycling to help keep the environment free of waste.
Your Source for Reliable Shredding in Marietta
We're prepared to meet the commercial destruction needs of every customer with our top-notch document shredding services. Our shredding professionals work with you to address compliance concerns deliver secure, worry-free solutions.
Request your free quote online today or contact us at (770) 490-5607 to discuss your commercial shredding needs.