Shred or Keep It? Everything You Need to Know About Document Retention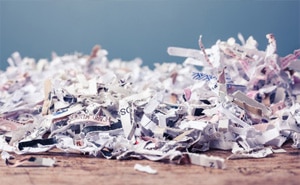 While there are several different aspects to keeping your information safe, a sound document retention policy is one of the most important. No matter the business you're in, knowing which confidential documents to keep and which ones to permanently destroy should be your top priority.
With that in mind, we've compiled a small list of document retention policy guidelines to help you keep your information safe and secure.
1.      Information Audits
Audits enable you to identify what sort of documents you are producing. Conducting an internal audit is also useful for you to create an inventory, and update as needed.
2.      Tax Records
First, you need to decide how long records are valuable to the business. Next, you need to know how long they must be retained based on government and industry requirements.
Evaluate the regulations and laws applicable to your business. For example: In the United States, payroll tax returns are required to be kept for 4 years.
3.      Fines
Although you are required by law to keep certain documents, you may expose yourself to fines or litigation risks if you retain a document for too long.
Accordant to privacy law in the State of Georgia, businesses are subjected to potential fines of up to $10,000 for improper handling of confidential information.
4.      Easy Retrieval
For easy document retrieval, implement an office-wide index process. Store documents in secure, locked containers and maintain control over access to limit document mishandling.
5.      Secure Disposal
Discard paper documents when they are no longer required for business or legal purposes. Partnering with an on-site professional shredding company reduces the risk of mismanagement and theft.
Off-site shredding options offered by national firms sacrifice the client's best interest and present potential confidentiality risks and security issues that most business can't afford. EcoShredding's on-site system procedures diminish these risks – ensuring all confidential materials are destroyed on your location by trained security professionals.
Need help deciding what to throw away and keep? And when to do what? EcoShredding is your local expert shredding company and compliant with HIPAA, FACTA, and GLB. Contact us online or call (770) 490-5607 to learn more about ways to minimize your businesses security risks.