Dumpster Diving & The Tale of the Stolen Identity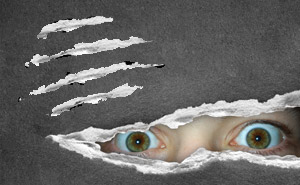 Thanks to the wonders of modern technology, we can do everything online, from paying our bills and scheduling appointments to keeping in touch with friends and family or ordering groceries to be delivered right to your door.
Of course, with every new advance comes "evil masterminds" whose sole objective is to find new ways to hack into a system, steal data, and possibly set up false accounts using the identity of an unsuspecting victim.
We spend countless hours updating computer passwords, installing firewalls, and ensuring our electronic information is as secure as possible, but we overlook one of the easiest ways that criminals access sensitive information: the Dumpster.
An independent poll conducted by PEMCO Insurance Northwest revealed that while a majority of  respondents felt that data breaches posed the biggest identity-theft threat, only about half still felt that online financial transactions were more secure than receiving "snail mail" bills and sending checks through the mail. And it's amazing how many businesses still conduct transactions through the mail.
Identity Theft Risks
Identity theft takes place when the opportunity is present. Some opportunities we often overlook include:
Snail Mail – utility bills, credit card and other account statements or bills, vendor reports, even product samples. While most commercial office spaces or retail complexes have locked mailboxes, converted residences converted for office space by attorneys, accountants, and more, often use traditional – and un-secured – mailboxes.
Trash – if you don't shred it – or shred it using a low-quality paper shredder – your information is ripe for the picking. "One man's trash is another's treasure," has never been as true a statement as it is today!
At EcoShredding, we can help minimize your identity theft risk – as well as those faced by your customers, clients, patients, even employees. Sensitive information is discarded into one of our secure collection bins at your location, and you can call when it's full or we can schedule a date to shred all of your sensitive documents on-site.