Celebrate "Clean Up Your Room Day" with EcoShredding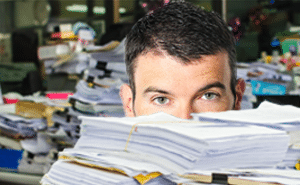 While not an "official" holiday, May 10 has been designated as "Clean Up Your Room Day" for the last several years, as an excuse to get kids to clear out the clutter in their bedrooms and playrooms before they bring home whatever has been in their school desks and lockers.
As far as EcoShredding is concerned, any holiday that encourages clearing out clutter is a great excuse to shred potentially sensitive information stored on paper or computer hard drives in offices around the north Metro Atlanta area.
But did you know that EcoShredding can also help you clear out your business's storage room or warehouse? That's right – our shred-on-site services can help you get rid of "misprints" or outdated branded items as well, including:
Business cards
Banners
 Signs
T-shirts, Caps, or Other Branded Apparel
Trade Show Leftovers
And more!
Spring cleaning is in full swing, and clearing out the file cabinets is just the tip of the iceberg in terms of how EcoShredding's Mobile Document Destruction Service can help your office "clean up your room" before summer conferences, trade shows – even employee vacations – begin!
Call 770-490-5607 today or visit https://ecoshredding.com/contact-us/ to schedule your no-obligation consultation for us to assess your document destruction needs.