An Office Security Holiday Wish List: A Guide To Guard Your Office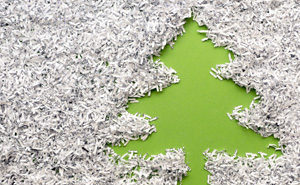 It happens the same time every year. Offices and retail stores get incredibly busy as the holidays come around.
Almost everyone goes out shopping. But identity thieves and criminals are out and about just as much as honest buyers.
In fact, the holidays are one of the busiest times of year for fraud.
There are a number of reasons why fraudsters love the holidays. The number of potential targets increases. Everyone is frantic and busy, which can make it easier to get away with.
So with that in mind, here are a couple of items you can implement to make sure your holiday season runs safe and smooth.
1. Clean Desks
With more loved ones and friends potentially visiting the office, have a policy in place so employees lock down computers when unattended.
Leave sensitive documents locked away (or at least not out in the open) and keep desk tops neat, clean and clear.
2. Document Destruction Policy
After a year of documents piling up, shred everything and start fresh. Don't take chances with sensitive documents lying around your office.
It's your responsibility to protect the privacy of your employees, your clients and your own personal information.
If you're required by law to shred sensitive information, strategize a solution to securely destroy the sensitive documents you have on hand.
This way, there is a 0 percent chance it ends up in the wrong hands.
Dumpster diving thieves will be on the lookout for anything that might lead them to a quick payday at your expense.
3. Browsing Security and Scam Training
It's almost a certainty that employees will be online more, especially with online shopping. Information thieves comb through social pages for anything that might be useable in a scam.
Consider educating employees on best browsing practices (like making sure they remember to log out!). Make them aware of potential and popular scams they could run into.
Some popular office scams include sending fake invoices for products or services, or phishing scams (fake emails that look like they are from real companies like UPS or FedEx).
At EcoShredding, we can help minimize your identity theft risk – as well as those faced by your customers, clients, patients, even employees. We can also assist you in making sure you're fully protected for this holiday season.
Sensitive information is discarded into one of our secure collection bins at your location, and you can call when it's full or we can schedule a date to shred all of your sensitive documents on-site.