7 Things You Didn't Know You Should Shred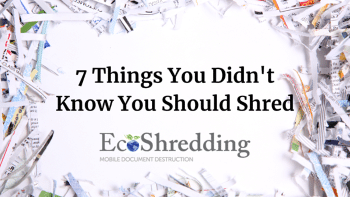 While it is common knowledge to shred sensitive documents such as bank statements, tax documents, and documents with your Social Security number on them (except for your Social Security Card), there are other types of documents you should also be shredding regularly. These documents could put your identity, finances, and family at risk if they're left intact. Below we list 7 things you didn't know you should shred.
1. Old Pictures and IDs
While going through your memory boxes, you might spot a few duplicates of old pictures. Instead of just throwing them away, you should shred them. People can easily use your photo maliciously.
If you spot any old IDs, these need to be shredded as well. With the personal information on them, someone could try to steal your identity if they got their hands on it.
2. Shipping Labels
If you're an avid online shopper, you get plenty of different packages in the mail that include order confirmations, receipts, and shipping labels. Most of these documents can include personally identifiable information. Before throwing away or recycling your boxes, make sure to take all of those documents out and shred them.
3. Junk Mail
You probably receive one or two pieces of junk mail every day. While you may just toss them without even opening them, you should actually be shredding them. Even junk mail can include important private information that others could use against you. Especially with credit card offers! With just that piece of mail, someone could use it to open a line of credit in your name, committing identity theft and fraud.
4. Travel Documents & Boarding Passes
Any travel itineraries should be shredded. Thieves can use these documents to try and re-book your plans or get into your accounts. As for boarding passes, the QR codes can contain highly personal information that can be used against you. Try to keep your boarding passes digital but if you need to have a physical copy, keep good track of it until you are able to shred it.
5. Post-It Notes
While you may find Post-It Notes odd to be on this list, these can be a piece of paper with extremely important information on them. When you're at your desk or on a phone call, you might just quickly scribble down some information to make sure you don't forget it. When this happens, save that information somewhere else in a secure place and shred those little Post-It Notes.
6. Certain Tax Records & Documents
When it comes to tax returns, keep these forever in a secure place! However, other documents can be shredded. After double-checking your W-2, you can shred your pay stubs. As for tax records like tax-related receipts and canceled checks, wait seven years before shredding them. The IRS has at least three years to audit you, even up to seven years in certain cases.
Shredding certain tax documents can prevent important information from getting stolen and used against you.
7. Credit Card & Utility Bills
Credit cards and utility bills can have important account information that you don't want getting stolen. Thieves can get your account information and make changes to your accounts or open new accounts under your name. After paying those bills, be sure to shred them.
Shredding documents is one of the best ways to protect yourself from identity theft. If you have documents that need shredding, call EcoShredding! We offer convenient, secure, and environmentally-friendly document destruction in Metro Atlanta! With high-level privacy, on-the-spot service, and affordable rates, we have become the most trusted locally owned document destruction service. Give us a call today to get started!
Sources:
https://consumer.ftc.gov/consumer-alerts/2015/05/pack-rats-guide-shredding