3 Easy Steps to Creating a Clean Desk Policy for Office Security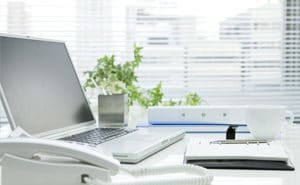 It's very likely every employee at your office handles some sort of sensitive or confidential documents. That's why it's time to start and implement a clean desk policy for the office.
That means everyone in your office must be responsible for protecting company documents and data from unauthorized access – both from employees or outsiders. And document security is especially important if you work in the medical, financial or the legal industry.
Starting and following a clean desk policy throughout the office can go a long way in increasing productivity and security.
Customers will feel more at ease when at your office compared to seeing unsecured papers over cluttered desks. Employees will be more organized and efficient, as well as being your first defenders against theft and fraud.
So in order to protect your information, we recommend you implement your own version of this policy at your office. And remember, try to set the best example when it comes to information security.
Step 1: Strategize
The first rule of a clean desk policy is to only keep things on your desk that you are using that work day. If documents or folders are being used, they should be filed and (potentially) locked away.
Upon entering the office, you should spend a couple minutes preparing what you need that day. From there, spend a few minutes a couple of times each day to make sure your following the clean desk policy.
Step 2: Defend
Obviously, no one is able to sit at their desk all day. Eventually, we all get up for bathroom or lunch breaks. But whenever you do, remember that you're leaving your desk open and vulnerable.
Do a quick check to make sure nothing sensitive is left open on your desk or desktop. Also, consider mandatory password-protected screensavers that automatically activate after a short amount of time.
Step 3: Pick Up
Similar to starting, end each day with security in mind.
Before you go home, clean up your desk after your day's work. In order to protect the information of your clients and employees, file away your documents and, if it's needed, lock them up.
You should get into the habit of cleaning your desk each night, and will realize the added productivity boosts that come with it in the morning.
EcoShredding specializes in mobile document destruction. We offer daily, weekly, monthly and one-time purge service packages. We'll help you determine the most economical schedule and make sure your business complies with legislation.
Even if you only need a one-time purge, we can handle from just a few boxes to thousands of pounds.